Green Key Gold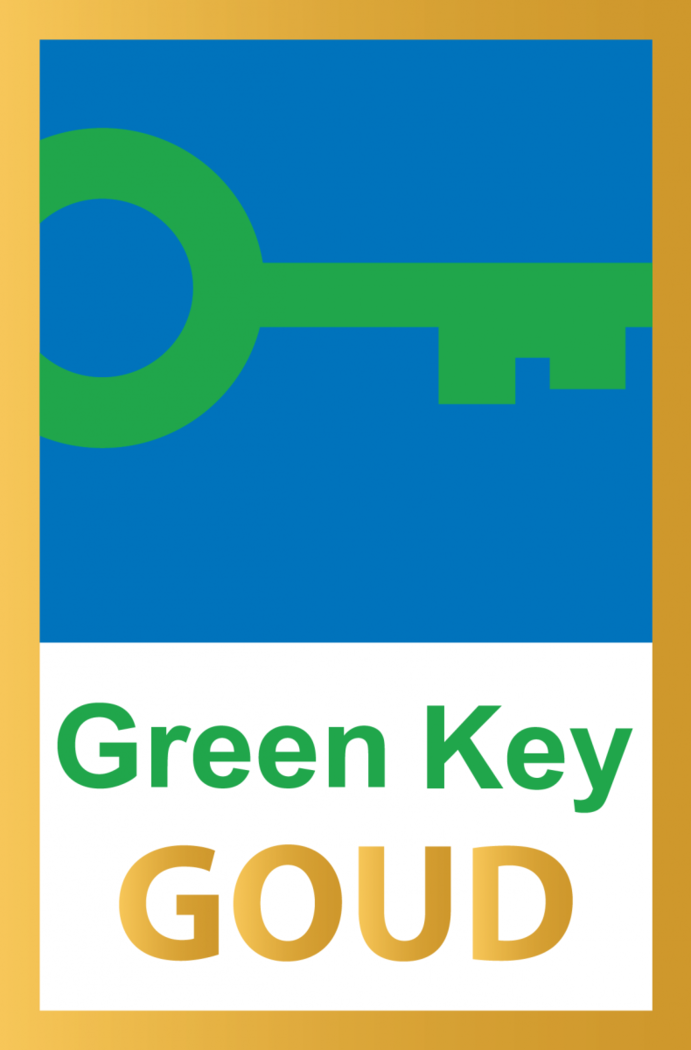 Green Key is the largest sustainability label for the tourism and leisure industry in the Netherlands. Our holiday park carries the Green Key Gold label! This means that we go beyond normal laws and regulations to make our park as sustainable as possible without compromising on quality and comfort.
Would you like more information about Green Key or do you want to know how you can contribute? Take a look at:
www.greenkey.nl
How you are contributing
Good to know is that we think it is important that you as guests are not hindered by the sustainable actions we undertake. Unnoticed, you as guests also do your bit.
- In the accommodations we have water-saving taps. This uses up to 70% less water than a normal tap.
- Our smart thermostats are equipped with a motion sensor and ensure that it will never be too hot or too cold in your accommodation to prevent energy loss.
- The coffee cups in your welcome pack are made from plants. This means that the coffee cups can go in the garbage after use and are completely biodegradable.
- Your accommodation is cleaned with certified cleaning agents.
- During your stay we have set an energy maximum to prevent excessive electricity consumption and to make everyone aware of their own consumption.
- In our parking lot we have 6 charging stations for electric or hybrid cars.
- We use only sustainable materials in our catering and have stopped using disposable plastic materials. We also offer various vegetarian, organic and local dishes and products.
- Our swimming pool uses an automatic flushing system. As a result, less water and heat is lost.
- At our vacation park we have several trash cans and waste containers to separate your waste.
Plans for the future
We also have plenty of plans ready for the future to make our vacation park as sustainable as possible.
- We will install solar panels on the roof of our swimming pool and on part of our accommodations.
- We will install LED lighting with motion sensors in our buildings and facilities.
- We will also start using sustainable toilet paper in all our buildings, facilities and accommodations.
Tips for a 'green' stay
Besides all the measures and adjustments we have made to our vacation park, you can also make various 'green' choices yourself.
- At our reception we have several cycling and walking routes ready for you. See also the various tips on our website. This way you can discover our environment in a sustainable way.
- Choose one of our sustainable means of transportation. In this we have a wide choice of, for example: various bicycles, electric island choppers and go-karts.
- Take a reusable shopping bag to our supermarket. Forgotten? We also offer these in our Spar supermarket.
- Turn off your lights and electrical appliances when leaving your accommodation and check that your air conditioning or heating are not on unnecessarily.
Do you have any questions or tips of your own?
If so, please let us know. Please send an e-mail to:
greenkey@eilandvanmaurik.nl